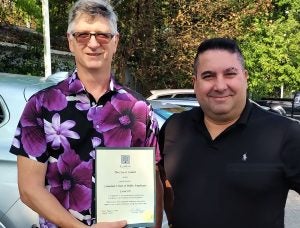 On Friday August 14, 2020 the Mayor's office hosted a Commemoration of the 1 yr anniversary of the explosion on Woodman Ave, London. It was held at the Emergency Operation Centre on Boler Road and was an opportunity to honour the First Responders (London Fire Dept, London Police, and Middlesex-London EMS) for their work on the night of the explosion, along with city staff and community agencies for their work in the days that followed.
Representatives from London Fire Dept, London Police, Middlesex-London EMS, Local 101 and Local 107 were on hand to receive a Letter of Acknowledgement.
Seen here is a picture of Philip Boyd, VP of Local 101,  and Domenic Anello, Recording Secretary, with a Letter of Acknowledgment on behalf of members from CUPE Local 101.