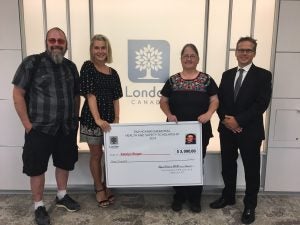 Katelyn Rieger, daughter of Steve Rieger from London Fire, was awarded the 2019 recipient of the Tim Hickman Memorial Health and Safety Scholarship.
This annual $3,000 scholarship for students in an occupational or public health and safety related program was established in 2006 by the City of London and CUPE Locals 101 and 107 as a tribute to employee Tim Hickman who died in service to the community at age 21.
Having recently completed her second year of nursing studies at University of Windsor, Katelyn has already shown initiative and passion to help limit hazards and reduce safety risks for both patients and staff.
The Tim Hickman Memorial Scholarship represents the importance of raising awareness of occupational health and safety. Katelyn's commitment to health and safety, in her career path, and in educating others, demonstrates how one person can make a difference.